Gardening is a wonderful hobby if you enjoy watching fruits, vegetables and flowers grow and produce delectable foods or beautiful flowers.
Enjoying nature including a variety of birds, pollinators, bugs (good and bad), and other small animals that venture into the yard is a wonderful part of gardening.
A couple of years ago, my grandchildren and I decided to apply for Certification
with the National Wildlife Federation. Certification requires that your yard provides food, water, cover and places for wildlife to raise their families.
We made our own bee block to attract native pollinators to our yard as well as a bat house.
Food can include having native plants, fruits, nuts, berries, and nectar or feeders to supplement these requirements.
Water gardens, streams, ponds, or bird baths can meet the needs for accessible, clean drinking water.
Birdhouses, thickets or rock piles can provide cover for animals.
Places for wildlife to raise their young can include host plants, nesting boxes, vegetation, dense shrubs, or ponds.
.
Our property borders wetlands on two sides. We leave downed trees in place so small animals can find homes. We also leave plants in the fall garden that have berries, pods, or nuts available for winter snacking.
We work hard to attract wildlife with a large variety of native annual and perennial plants, bushes and shrubs. Our gardens include bird baths, butterfly houses, bird houses, bee block, bat house, hummingbird feeder, and we continue to add new things each gardening season.
My grandchildren love gardening, enjoyed the certification process, and are very proud of their sign in the yard. If you garden with your grandkids and are looking for a learning project, give National Wildlife Certification a try.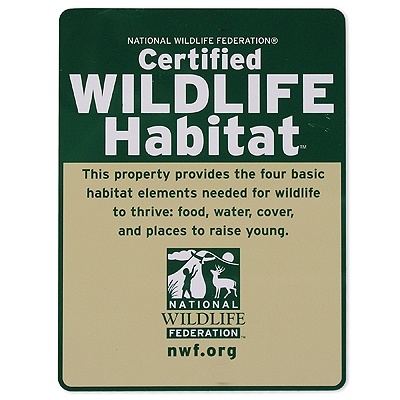 This post has been linked to the Grand Social blogging event.